Our Weekly Newsletter Connecting School and Home
Headmaster's Message
It's been a good week at FBS. I am very proud of how our boys have started their exams and attendance at revision sessions has been very high. There's still a long way to go but we're ticking them off!
Last night was our fundraiser at Tramp. It was a great evening at a fantastic venue. Heartfelt thanks to all who came, all who donated and all of the organising team for putting on a wonderful event.
On Monday, some of our Year 7 boys attended their graduation from the Brilliant Club at Royal Holloway, University of London. The Brilliant Club is an organisation that supports students to lay foundations for higher education by writing academic essays and being supported by a PhD supervisor in a specialist area. Special congratulations goes to Lucas  (L5), Ezra (W1), and Nicolas (L5) who all received First Class Honours Degrees for their efforts. Congratulations to all boys! You can see more photos by reading this news report.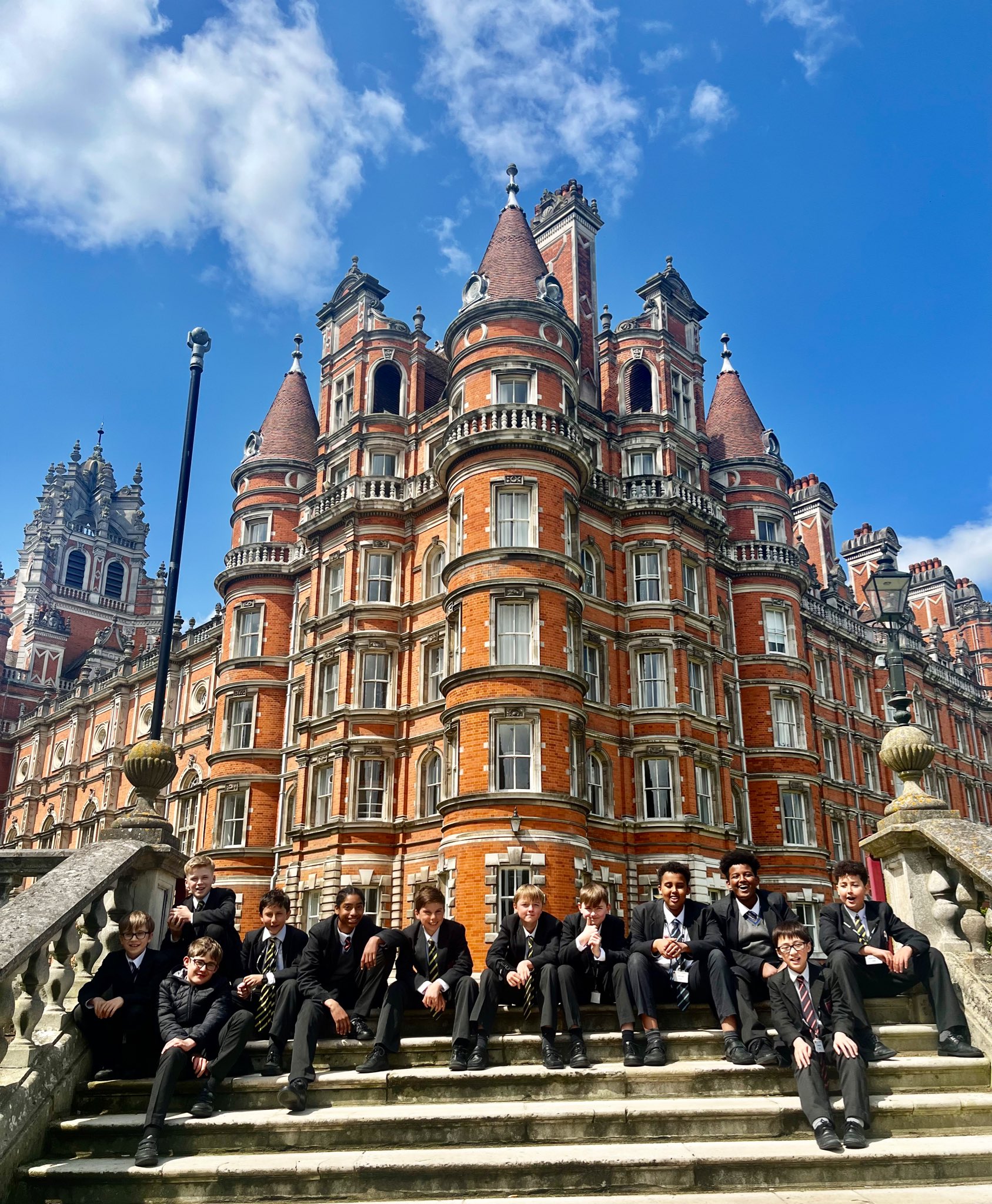 Merlin, Greg, Jack C and Dimitri in Year 12 have all been given MEF (Mark Evison Foundation) awards. This means that MEF is funding (or part funding) upcoming projects the boys have planned. For Merlin and Greg, this will be a hike in Snowdonia and for Jack and Dimitri, the funding will support the software development they are working on. They had to put together lots of plans and have a short interview for the opportunity. Congratulations gents.
Elsewhere this week, some of our athletes visited Birmingham University sports performance centre to get an insight into sports science. Our very own "four minute mile" man, Mr Wilson, was put through his paces on the treadmill for some statistical analysis.
In tennis, our boys played their first competitive match against Wetherby school and our trainee ball boys continued their rehearsals for the upcoming tournament at the Hurlingham Club.
On Monday, we have Year 8 parent consultations. If you have not yet booked your appointments, please do so. One of the foci will be what boys need to do to be set up for success in their end of year exams next month.
Finally, some 60 boys in Year 9 have set off on their Bronze Duke of Edinburgh (DofE) Expedition in the New Forest today. We encourage as many boys as possible to undertake the DofE programme as it aligns closely with the FBS ethos and values. As well as their expedition this weekend, boys undertake volunteering, learn new skills and try out new physical activities to achieve their Bronze Award. We wish all of our boys the best of luck.
Have a pleasant weekend.
David Smith
Headmaster
From The FBS Foundation
Donating your time and energy
One of the unique aspects of The Fulham Boys School is the way in which parents are encouraged and needed to play a part in the school's success. FBS benefits enormously from commitment of time and resources offered each year by our parents.
This blog is a rallying call for further support. Can you help us in any of the following ways?
Offering work experience to our Year 10 pupils
This is such an important part of our students' educational experience, giving them real life exposure to the workplace and helping them make decisions about their future. We still need to find placements for a few of our pupils during Enterprise Week on 10-14 July. Some boys need all five days, others just Thursday and Friday. Can you help by offering a placement? If so, contact c.le-hur@fulhamboysschool.org.uk.
Giving a talk on your professional experience
Changes to the school day next year will mean the opportunity for an even greater number of enriching experiences for our students and as part of that programme, we want them to hear from you. If you are able to help, please contact c.le-hur@fulhamboysschool.org.uk so that we can start
to put our talks programme together for next year.
Offering the school your professional services
From graphic design to dry cleaning, architecture to removals, the school always needs a variety of professional services to operate efficiently and effectively. Can you or your business help us by offering some hours of pro bono, or reduced rate, services to the school? If so, we would love to
hear from you. Please contact j.thomas@fulhamboysschool.org.uk. All offers will be gratefully received.
Once again, thank you to all parents for contributing to the school in so many different ways. FBS is enriched because of you.
Best wishes,
Julian Thomas
CEO, The Fulham Boys School Trust
From The Friends of FBS
Support our boys, with a chance to win a CASH PRIZE!
The FBS 800 club is a public lottery open to everyone over the age of 16. 70% of the monies raised are donated to the school, with 30% being paid out in cash prizes each month.
The Friends of FBS
---
Whole School News
Student Departure Times – Monday 22nd May
On Monday 22nd May, it is Year 8 parent consultation. Leaving times for this day can be seen below.
Year 7: 14:30 / Year 8: 12:40 / Year 9: 14:30 / Year 10: 14:30 
Ski Trip 2023
The Ski Trip for this year is now live and so far we have had quite a few sign ups. There are still plenty of places available.  More details regarding the trip can be found by reading this Ski Trip letter. If your son would be interested in attending, then sign up can be completed on ParentPay under the payment item titled 'SKI TRIP CHRISTMAS 2023'.
Changes to Whole School Day
Please follow the link to this document which outlines the upcoming changes that are due to occur at the school from September onwards.
Year 7 News
There is no relevant news pertinent to Year 7 this week.
Year 8 News
Year 8 Parent Consultation – Monday 22nd May
As you know the Parent Consultation afternoon for Year 8 is coming up on Monday 22nd May. This is the chance to meet with all of your son's teachers to find out how he is getting on at FBS this academic year and exactly what he needs to do now to achieve his end of year target grade in the June exams. These meetings will take place online with each of your son's teachers. 
Appointments will be available to book from 1pm on Friday 12th May. Please log on to School Cloud to make your appointments. You can also find a link to this booking system on Parent Portal, and on the website under FBS Parent Platforms. Please do not hesitate to contact the school you have any questions or concerns.
Year 9 News
There is no relevant news pertinent to Year 9 this week.
Year 10 News
Year 10 Work Experience Forms
Please ensure that the work experience forms are returned to Ms Le Hur as soon as possible. Forms need to be signed by a parent/guardian, the student and the employer. 
Help With Work Experience
If anyone is able to help providing a work experience opportunity for our Year 10 boys, please contact Ms Le Hur on  c.le-hur@fulhamboysschool.org.uk.
Year 12 News
There is no relevant news pertinent to Year 12 this week.
Sport Update
A Busy Week of Sport
It's been a fantastic last week or so for sport at Fulham Boys. We've had two trips to Universities for boys to take part in workshops and have campus tours, plus we also had our first ever tennis fixture take place. Follow the 'Read more' button for photos of these events.
Upcoming Events For Parents
Hold the date! Summer Fair and International Food Day Part 2.
On Friday 30th June from 16:30 – 19:30, the Friends of FBS will be holding an International Food Day. As the seasons change, so do the ingredients. As such, we thought we would combine our International Food Day Part 2, with our Summer Fair.  All the boys, parents and teachers can enjoy good food, entertainment and games together. 
Please hold the date and get your recipes ready for a full on food evening.
Further details on how to get involved will be distributed in the near future.
The Friends of FBS
Other Important Information
Sports and PE Kit – Injuries and Illness
Kit: For the summer term, students should be wearing trainers, white socks and white polo shirts for both PE lessons and sports afternoons/mornings. We would encourage students to also bring a fleece or rain jacket just in case. As the weather gets hotter, please ensure your son has a water bottle and sun cream available. If required, please follow this Tylers Sportswear link for The Fulham Boys School kit page.
Injuries/Illness: Students are expected to be in full PE kit unless they are unable to get themselves changed (ie. they are on crutches or have a cast). Should your son have a legitimate injury or illness that might prevent them from fully engaging in PE lessons they should still bring their kit and support in lessons as far as they are able. If you believe that your son will not be able to manage this then a request should be made to your son's Head of House to ask for alternative arrangements to be made during PE lessons and Sports Afternoon. 
Peripatetic Music Lessons
There is availability at the school for lessons in the following instruments: bass guitar, brass, drums, guitar, piano, woodwind (saxophone, clarinet and flute) and finally lessons for singing. If you think your son would be interested in taking part in these lessons, contact either Mr Chawla (r.chawla@fulhamboysschool.org.uk) or Mr Gleed (o.gleed@fulhamboysschool.org.uk) to find out more.
The Drum/Guitar teacher would like to increase his uptake for instrumental lessons. Again, please contact either Mr Chawla or Mr Gleed if your son would be interested. Please see his introductory video here.  
Parent Reminder For Visiting School
This is a polite reminder that parents should avoid visiting reception wishing to speak with a teacher, form tutor, HoH etc without prior arrangement. Parents should contact the relevant staff member by email to make an appointment. Thank you.
French Trip to Loire Valley
A reminder that the French Trip to Loire Valley leaves on Thursday 25th May.
Quick Dates For The Diary
| | |
| --- | --- |
| Monday 22nd May | Year 8 Parent Consultation |
| Thursday 25th May | French Trip to Loire Valley leaves |
| Friday 26th May | Last Day of Term |
| Sunday 28th May | French Trip Returns |